Serbian Cultural-Artistic Association Semberija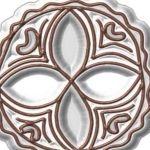 SKUD SEMBERIJA (SKUD – Serbian Cultural-Artistic Association)
Address:
Cultural Centre Bijeljina
Trg kralja Petra I Karađorđevića
76300 Bijeljina
Republic of Srpska
Bosnia and Herzegovina
Phone: +387 (0)55 205 472
E-mail:
[email protected]
Web site:
www.skudsemberija.org
Serbian Cultural-Artistic Association Semberija was established in 1954, and it has been an important factor of the culture in Bijeljina. In the past fifty years the Association performed at numerous national and international festivals and won prestigious awards.

In the early 80s of the last century, the Association made progress and had their first international performances representing the richness of our folklore.

In the second half of the 90s, the Association intensifies its work again and in 1997, by the decision of the Assembly of Bijeljina Municipality, it has been registered as a public institution for culture, with the aim of preservation of tradition, customs, dances and songs of all Serbian territories.

The Association has 500 active members divided into four age categories: the first ensemble, youth ensemble, children's ensemble and veterans' ensemble.

The Association is especially proud of its weaving group which makes parts of folk costumes for the needs of the Association, and they organise a school of weaving and embroidery.