Reception for Yuri Shiskin and Stanislav Malishev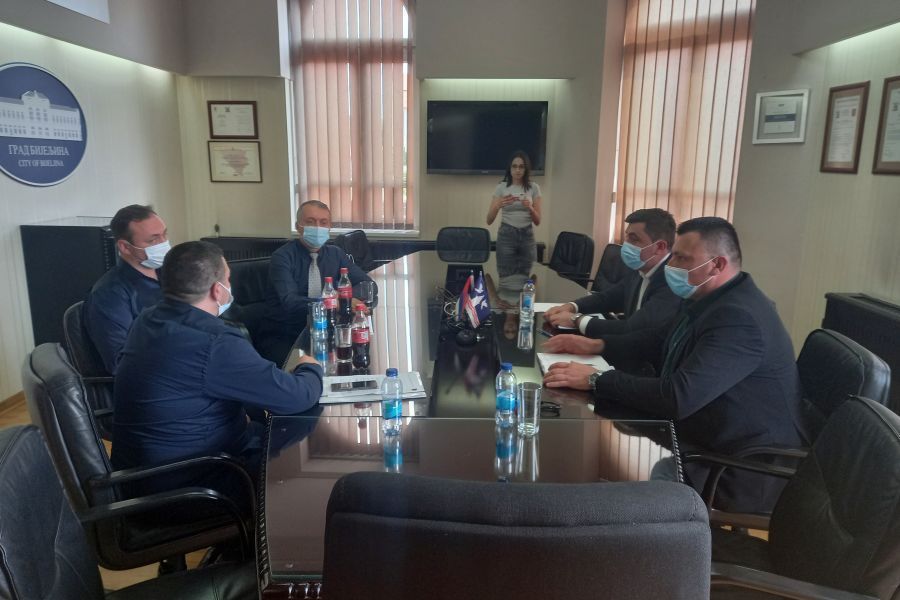 ​Mayor Ljubiša Petrović organised a reception for the greatest accordion virtuoso of today – Yuri Shishkin, and one of the most recognised world players of digital accordion – Stanislav Malishev, participants of the 13th Festival "Accordion Days", being held in Bijeljina and Ugljevik from 4 June to 7 June.
"I have participated in the Festival for several years, but this is the first time for me to visit the City Administration, and I am very glad about it. I am grateful to the mayor for his support, it is very important to us", said Shishkin and added that Bijeljina and Ugljevik are very specific communities, when it comes to organisation of this event.
"I visited many festivals across Europe, but this one has something that is rare, and it is love for music, children and own culture. We gathered here today to talk to the mayor about how to improve the festival so the whole world could hear about it", said Shishkin.
Slaviša Perić, the festival organiser, pointed out that despite pandemic conditions the "Accordion Days" is successfully organised with 200 participants. He reminded that this year for the first time qualifications for the accordion world cup in Munich were organised, and Bosnia and Herzegovina will be represented by Radovan Ivanović from Banja Luka and Vehdija Hodžić from Sarajevo.
"I would like to thank the mayor and the City Administration for the reception and confidence, because it shows the importance of the Festival for Bijeljina. We agreed to improve the culture of our city together", said Perić.
Mayor Ljubiša Petrović said that he is very honoured by the presence of world-class music artists.
"I would like to have good cooperation in the years to come and to do everything we can to make the Festival bigger. It is very important that the world-class virtuosos pass their knowledge to our young talents and show them how hard work brings results and success", said Petrović, and added that this is a good way to raise cultural awareness of the citizens, and that the City Administration has an obligation to support such activities.